By Claire McDonnell Liu, Nutritionist at Leafie.org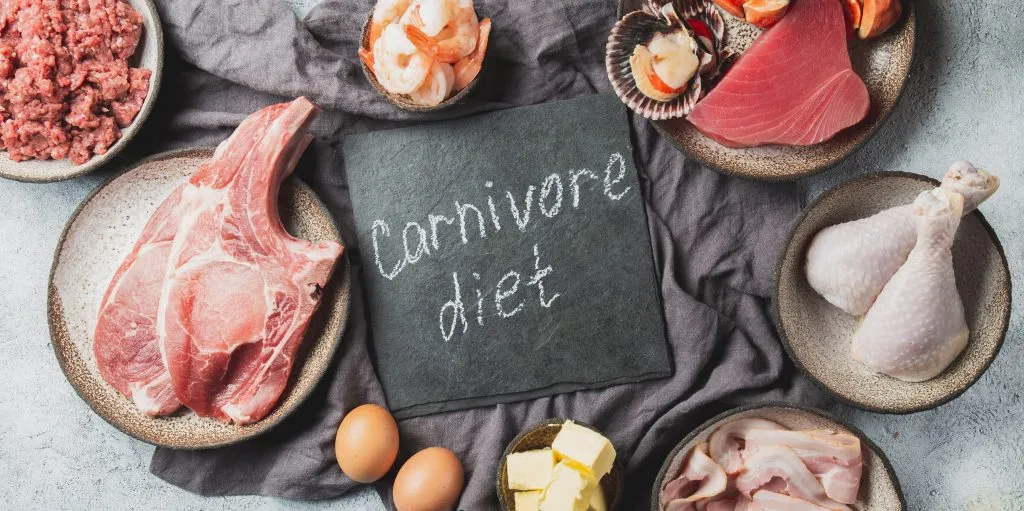 The carnivore diet is based on the principle of eating animal-sourced foods, whilst avoiding non-animal-based foods.  
Followers of the carnivore diet predominately, or solely, eat meats, fish, eggs and other animal products, such as tallow, lard, fish roe, and chorizo.
The carnivore diet is a low carbohydrate diet, as carbohydrate foods and ingredients are chiefly avoided, including, grains, vegetables, fruits and pulses. In fact, many carnivore diet followers aim for zero carbohydrate intake.
Carnivore for Health Challenges
For many, the Carnivore lifestyle is an ancestral hunter diet, aligned with human evolution.
While there are no large-scale research studies into the effects of the diet as yet, some smaller trials are planned that may provide initial data to assess the diet effects. There are also a number of individual reports on personal benefits with physical and mental health conditions, such as arthritis, diabetes type 2, bipolar, depression, and anxiety.
Advocates promote the Carnivore Diet approach as beneficial to health due to the potential to increase nutrient-dense and essential high-protein foods. While removing highly-processed inflammatory modern foods, that are linked to high rates of chronic disease. Proteins that form the basis of the diet are essential for building and repairing muscle, skin and other body tissues.
Low Carb Gold Coast 2022
Dr Anthony Chaffee
Dr Anthony Chaffee will be presenting 'Plants Are Trying to Kill You' at Low Carb Gold Coast 2022. Dr Chaffee MD will share his research and own practice in a carnivore lifestyle for health improvements. Early Bird tickets are available during July 2022.
Dr Chaffee is an American medical doctor and Neurosurgical Registrar, now based and practising in Australia. His nutrition science research has led him to become an advocate for the carnivore lifestyle as an option for the treatment and prevention of chronic diseases.
Dr Anthony Chaffee MD on the How To Carnivore Podcast: 'Why We Are Carnivores'.
Dr Chaffee interviews and presents regularly as the host of the Plant-Free MD podcast, the Carnivore Fix Facebook group, and Anthony Chaffee MD YouTube channel, as well as appearing on other related podcasts, such as the How To Carnivore Podcast, an interview below.
Dr Sanjeev Balakrishnan
Perth family Physician Dr Sanjeev Balakrishnan will be presenting a panel discussion during Low Carb Gold Coast. The "Lipids, Statins and Coronary Artery Calcium" panel discussion, presented alongside Dr Deepa Mahananda and Dr Laureen Lawler-Smith, is an opportunity to hear information on dietary interventions for heart and coronary health.
Dr Sanjeev Balakrishnan's interview on Meat RX
Dr Sanjeev Balakrishnan promotes the significance of protein in diet for maintaining health. In the interview below Dr Balakrishnan discusses nutrition with prominent carnivore diet advocate, Shawn Baker. Sanjeev discusses the increase in chronic health diseases, such as diabetes type 2 and fatty liver disease and misinformation around dietary advice. He explains how important it is to address patient's diets that are making them unwell and how he supports patients with low-carb nutritional changes.